School finds single-sex learning the key to improving males' performance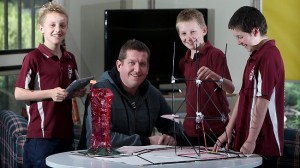 GIRLS consistently outperform boys in the classroom – so two teachers at Hackham East Primary School decided to try something new to bridge the achievement gap.
In 2008, the school decided to take a gamble by introducing its first single-sex classes after hearing a talk by an expert in the field.
It has never looked back.
Founding teacher Jarrod Lamshed said behavioural issues immediately subsided, attendance picked up and the boys participated more actively.
"Basically, it comes down to better meeting the needs of boys in schools," Mr Lamshed said.
In South Australia,the education gap between girls and boys has increased.
Last year 98 per cent of girls who started Year 8 in 2007 made it through to graduate, but only 78 per cent of boys did. That was a difference of about 20 per cent, compared with 15 per cent in 2000.
Almost 90 per cent of girls who completed the SA Certificate of Education last year earned a university entrance score, compared with 81.4 per cent of boys.
A recent review of the new SACE revealed the compulsory subject – the Research Project – provided an "inherent advantage" for female students, most of whom achieved As and Bs, while almost half the male students received Cs.
During his 30-year career as a teacher and school leader, the issue of boys' education became a passion for Ian Lillico, the expert who inspired teachers at Hackham East Primary.
He left teaching to pursue research on the subject and now works with schools to help improve the performance of boys.
"The evidence internationally is that the separation of genders can be valuable for students who are 11, 12, 13 and 14," he said.
Dr Lillico said the way boys learn was different to girls and that over the years changes in the curriculum had not been particularly "boy friendly".
"In the past boys tended to do well at maths and science but now every subject is seen as a literacy subject and because they are wordy, boys are not doing as well," he said.
"Maths should be maths, English should be English. If everything is done as a long evaluation or essay you will favour girls and boys will give up and think, 'Oh, I can't do this, it's too hard' even if they can."
Dr Lillico did concede there was some danger in single-sex classes.
"Some of the most successful boys' classes are often taken by two women or a man and a woman. It's very important if a school decides to have single-sex classes not to make it too blokey," he said.
As a Year 6/7 boys' class teacher, Mr Lamshed said he could more easily tailor the classroom program to individual learning needs.
"Having the boys together reduces the number of learning styles in one classroom," he said. "We found in that first year we had kids who were writing only a few lines but when the girls were not around they were writing more, and better. A lot of the social issues disappeared."
To better cater for the more practical learning-style, the physical set-up of the classroom was transformed, with rows of desks replaced by sofas, round desks and coffee tables with cushions on the floor.
"The traditional classrooms are about sit, be quiet and you will learn … with the boys we've gone the other way because we want them together and talking," Mr Lamshed said.
Principal Robert Thiele said the school's six single-sex classes were popular in the community and some families from outside the area were enrolling especially for them.
Michelle Poldervaart has four children at Hackham East – three are in a single-sex class including her eldest son, Toby, in Year 7.
"He was doing quite poorly before then and once in the boys class (which he started in Year 5) he just thrived," she said.
"He was behind by about three years in his maths and now he's come along really fabulously."
While single-sex education is popular in private schools, it is still fairly uncommon in the public schools.
SA Primary Principals Association president Steve Portlock said the creation of single-sex classes was a local school decision that needed to be made in the best interest of students.
"It might be a school has seen the need for a particular group of boys to work together and has designed a specialist curriculum," he said.
Association of Independent Schools of SA executive director Garry Le Duff said the variety in the private sector catered for parents looking for either single-sex or coeducation.
"I think one of the emerging issues in recent times is what are the ways to help boys improve retention and participation rates in learning," Mr Le Duff said.

Education Editor Sheradyn Holderhead
August 31, 20129:30PM
Original Source – Adelaide Now – Adelaide Advertiser – http://bit.ly/PSNaiQ