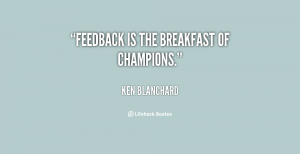 "Feedback is the breakfast of champions". This is an interesting quote. Breakfast of champions conjures up images of Rocky downing a raw egg… not something that is necessarily enjoyable, but it has an important purpose in his plan for self improvement. I think, for many people, feedback is a bit the same.
Feedback is an interesting thing. It's something that we know is vital for improving students learning. Giving students regular, targeted feedback helps them to improve. No arguments… we accept this as fact. This isn't something that is specific to schools either. As parents we regularly give 'feedback' (sometimes in the form of light ranting) to our kids and sometimes they take this on board and learn from it. When we have problems we don't know how to deal with, we talk to our trusted people and take on what they say to help us make the right decision. Feedback is everywhere… a natural part of our lives.
So, why is it that the idea of professional feedback makes many of us uncomfortable? If regular targeted feedback helps students improve, surely it's not a stretch that it will do the same for us.
We are lucky there in South Australia that we have a Department supported tool to help us manage feedback easily. The TfEL (Teaching for Effective Learning) Compass allows us to seek feedback from students, parents and colleagues. It's a powerful tool that is easy to use. If your are in SA and haven't tried it, it's certainly worth exploring.
The idea of hearing what our students really think can be a scary thing! Nobody wants to hear that the lesson we spent hours planning and preparing was a flop. But, it's important that we do hear it. We need to know WHY it was a flop. What hit the mark and what went terribly wrong? What can we learn from this experience that will help us do a better job next time? Even when something goes well, there will always be feedback that can help it be even better. This is the nature of our job. Nothing is ever finished.
In Australia we have a set of Standards for teachers (AITSL) that are now tied directly to our teacher registration requirements. I believe that this is a good thing. In the past we've often had the problem of not knowing what is expected of us. We have often felt like the benchmark keeps shifting. Now, the expectations are right there in black and white. We can't meet these expectations without the help of feedback. Standard 3.6 says…
Conduct regular reviews of teaching and learning programs using multiple sources of evidence including: student assessment data, curriculum documents, teaching practices and feedback from parents/ carers, students and colleagues.
This is something we HAVE TO do. It's not an option.
I think that 99% of us want to do our jobs the best that we can. More than that, we want the best for our students. Moving past the discomfort we feel and seeking honest, regular, targeted feedback is the best way to achieve this.
So, how do we make this happen? Even with a firm willingness to push forward we still have the struggles of 'not enough time' and finding regular, quick ways to get the feedback we need. How does this happen in your classroom? What tools and strategies to you use?